When Derby teacher, Nicol Winfield-Murray, first organised a maths open evening at her primary school, only two parents showed up. Undeterred and aware that parental negativity towards maths was causing a real block for the children in her school, Nicol set about trying to find out what would secure parental engagement in maths. Now her school's 'parent masterclasses' are into their second year and Nicol is involved in rolling out the programme to 35 other schools in the area.
Nicol is Maths Lead and Year 6 teacher at Wyndham Primary School in Derby, as well as being a Mastery Specialist for the East Midlands West Maths Hub. Wyndham is a two-form entry school in a deprived area of Derby. 40% of pupils claim FSM, 18% have SEND and 27% have EAL. The school plays a significant role in leading teaching for mastery development in Derby through the Maths Hub. Last year, it was designated one of 22 Research Schools, an initiative led by the Education Endowment Foundation.
Where did the idea of parent masterclasses come from?
As Nicol began to introduce teaching for mastery to the staff and pupils at Wyndham, she identified that children's beliefs about their ability to understand maths were key to their learning.
'So many of our children have a belief that they can't do maths, and because that attitude is often shared by their parents it's incredibly difficult to overcome. Parents play such a huge, influential role in what drives and motivates children, so I felt it was crucial to engage and empower parents and, in turn, begin to challenge the attitudes of our students.'
Once Nicol had identified the need for parental engagement, she had to work out how to fund her idea. She successfully applied for a grant for £15,000 from SHINE, a charity aiming to raise the attainment of children from low income homes across the Northern Powerhouse.
Using background research
Influenced by being in a Research School, Nicol started exploring what the blocks for parents were, and how these might be overcome. She found out the following:
Crucially, Nicol also consulted Wyndham's parents.
Parents felt that they wanted to do the maths themselves.
They wanted some form of accreditation to recognise the maths they had engaged with.
They suggested that they would like a home 'kit' of the maths resources used in school.
They found online resources difficult because there was no opportunity to ask questions when they got stuck.
Many parents had learnt maths by memorising facts and procedures at school, so their understanding was challenged when their children's learning focused more on understanding deep structure.
'I think one of the most important elements in developing the programme was taking the time to really understand our parents' anxieties and considering how best to overcome these', says Nicol.
Creating the programme
So, Nicol devised a series of eight sessions. They explored the progression of number from Foundation Stage to Year 6, using Maths Hub materials. Twenty-five parents signed up to the first season in 2017/18, and all but two completed.
'I knew that creating a programme which provided parents with the opportunity to develop their own subject knowledge in maths whilst acquiring skills to effectively support their children in their learning at home was a good idea.'
Nicol recognised that it would be difficult to secure parents' commitment to eight sessions, so she worked with the University of Derby to get university endorsement on a certificate of completion.
'If parents feel like they are benefiting personally from their involvement, I think that this really motivates them and drives them to succeed. My hope is that as a result of engaging with the programme, their attitudes to maths will change and that this will be modelled to their children.'
What is a class like?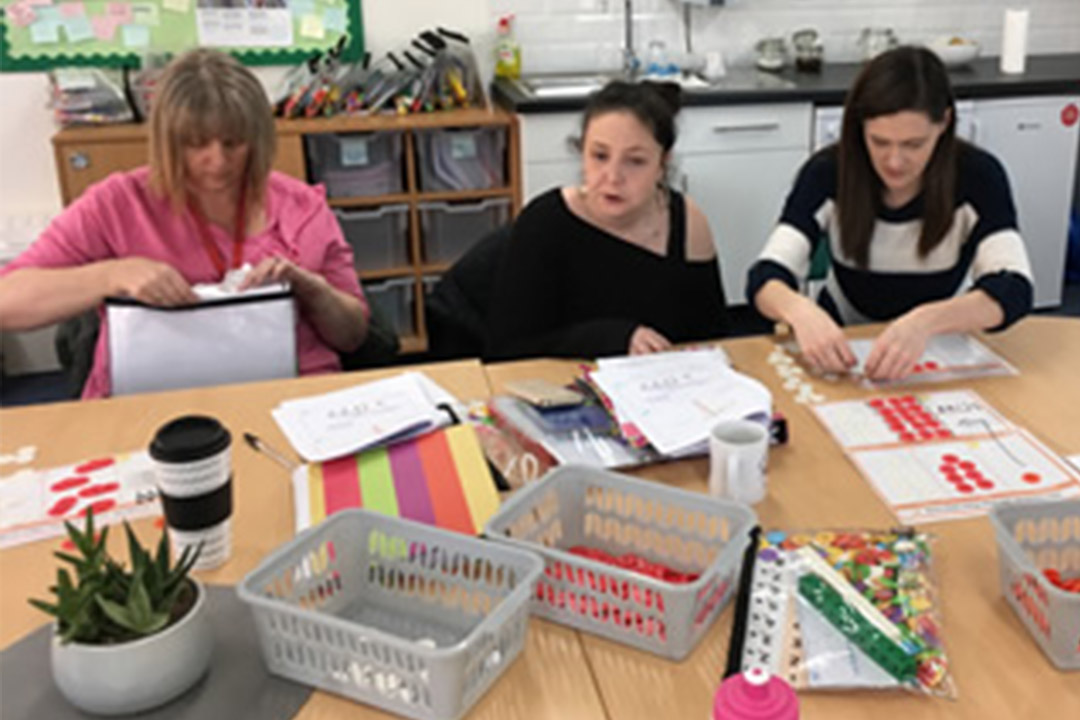 We visit for the penultimate class of the second season, on a Monday morning in March. This year twelve parents are enrolled. The classes are being run by Nicol's colleague, Sabaa Khan, an NQT who volunteered for the role. The clocks have just gone forward and the class is a little depleted by a Mother's Day assembly but there are eight enthusiastic learners.
The flexibility and informality of the structure has allowed extra sessions to be added when learners feel that they would like to spend more time on a concept. Last week they learned about the two different models of division (sharing and grouping), and today they have asked for more time to work on grouping, and how it is used in the written division algorithm.
Sabaa first shows a classic 'bus stop' division to engage with maths that looks familiar to parents: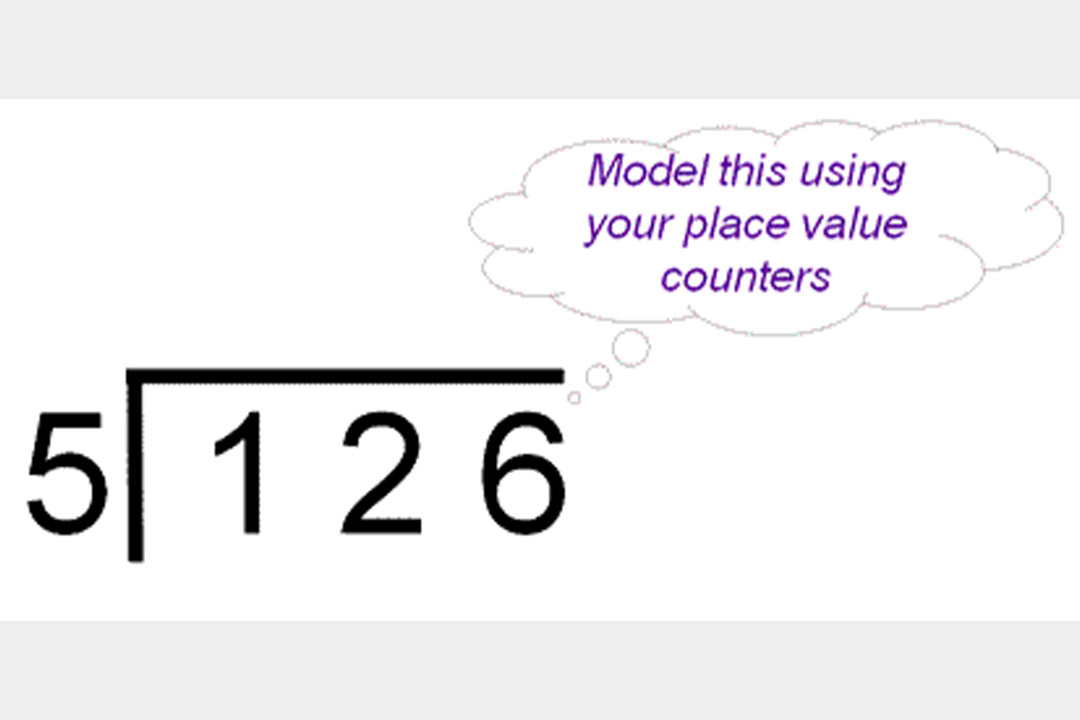 Leaving this calculation on the board, Sabaa then asks parents to work in pairs with place value counters to model what is actually happening in the process of short division. They make comparisons with what they know, to gain a deeper understanding.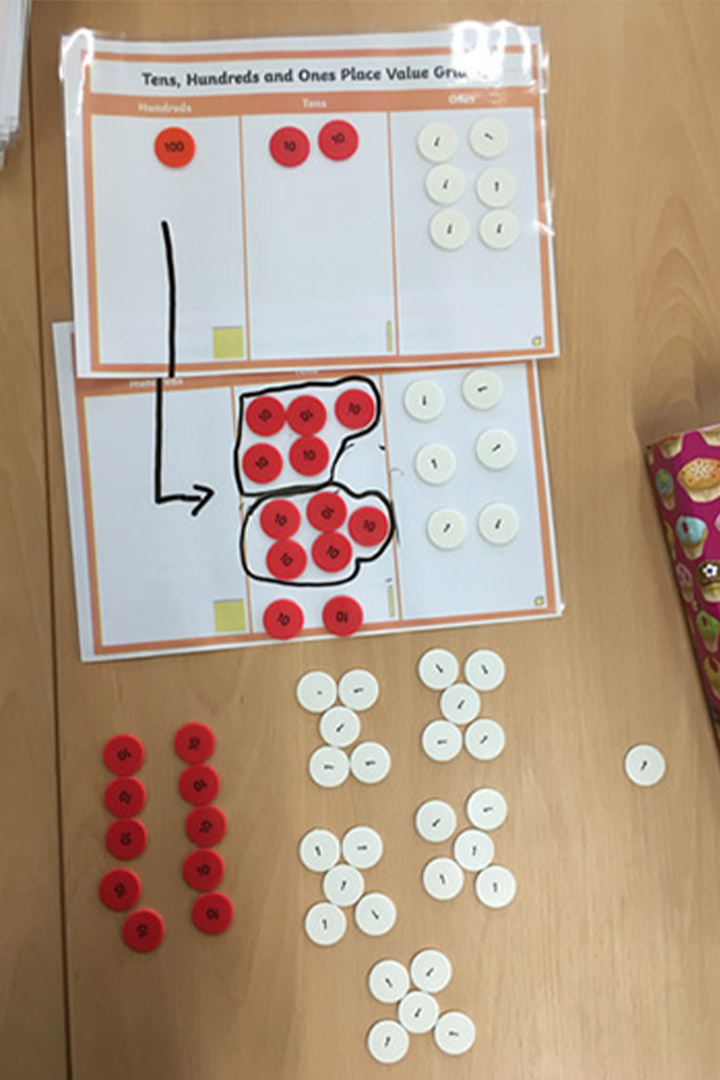 The image above shows three stages of the calculation, exchanging hundreds counters for tens and tens for ones where necessary, and then grouping into fives. The image below shows the calculation (done by a different pair) when it has been completed. Both show the answer of 25 r1.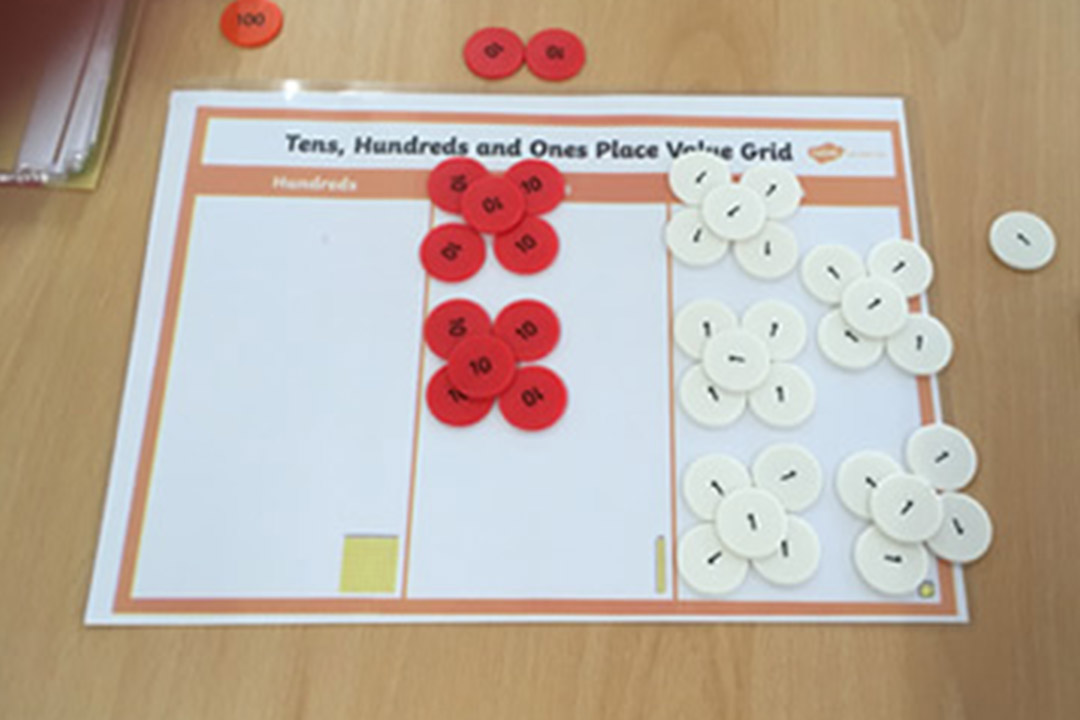 There is lots of discussion between pairs, and encouragement to look at what other pairs might have done differently.
And throughout the session, the question 'What would you say to your child here?' is asked. This has the double effect of drawing out what the parent understands and prompting thought about how they might aid their child's understanding.
The parents' backgrounds are diverse. One mum is a well-educated Italian, who recognises that her child is learning maths with vocabulary and methods that are new to her. Attending the classes is making her consider training to be a teacher. Another mum is from Iraq and has a five-year-old at the school. And another has home-schooled her Y8 son who has learning difficulties, and now wants to help her two daughters in KS1 as well as continuing to support his maths. A handful of TAs from the school are also attending, as part of the school's professional development programme.
Watching from the back, Nicol, as the creator of the programme, to a degree, has to sit on her hands. She acknowledges how difficult this is but also how important.
'I've learned a lot from watching Sabaa and how she does it differently to me. I like the way she first shows a traditional method, to enlist parents' engagement with something familiar. She's also got a really lovely relationship with the group – very informal and relaxed – which really draws them out.'
What has the effect of the masterclasses been...
...on the parent learners?
Last year, all parents reported an increase in confidence, both in their subject knowledge and their ability to effectively support their children at home. This was measured using confidence scales filled in at the beginning and end of the course.
One parent said: 'During the course, I could see my confidence growing and I was able to repeat most of the exercises carried out in class at home with my son... If a parent learns how to identify the role of maths in every moment of their lives, they can use it to support their kid's knowledge and boost their confidence in the subject!'
Since completing the programme, some parents have applied to become TAs and volunteer helpers at the school, creating a wider benefit for the school and pupils in a well-trained army of maths enthusiasts.
…on the children?
Nicol gathered a focus group of children whose parents had attended the masterclasses. 80% of them attributed their improvements in confidence in mathematics to the fact that they were now doing maths with their parents at home.
'This would suggest that if children see their parents excelling at maths and feeling very positive about the subject, this will have a very positive impact on them', says Nicol.
Class teachers also noticed their pupils taking a more positive attitude to maths.
What next for the parent masterclasses?
Now in its second year at Wyndham, the project is seeing a great deal of interest from other schools in the area. While Sabaa takes the lead on the Wyndham programme, Nicol is busy coaching 35 local teachers to run parent classes in their schools. Release time for teachers working on the project has been paid for by the grant money, and Nicol is reapplying for funding to continue the project.
'We have kept our approach flexible whilst within a framework, so that all schools are allowed the opportunity to adjust the programme to suit the needs of their teachers, parents and students. We are also currently working with a number of secondaries to develop the programme for KS3.'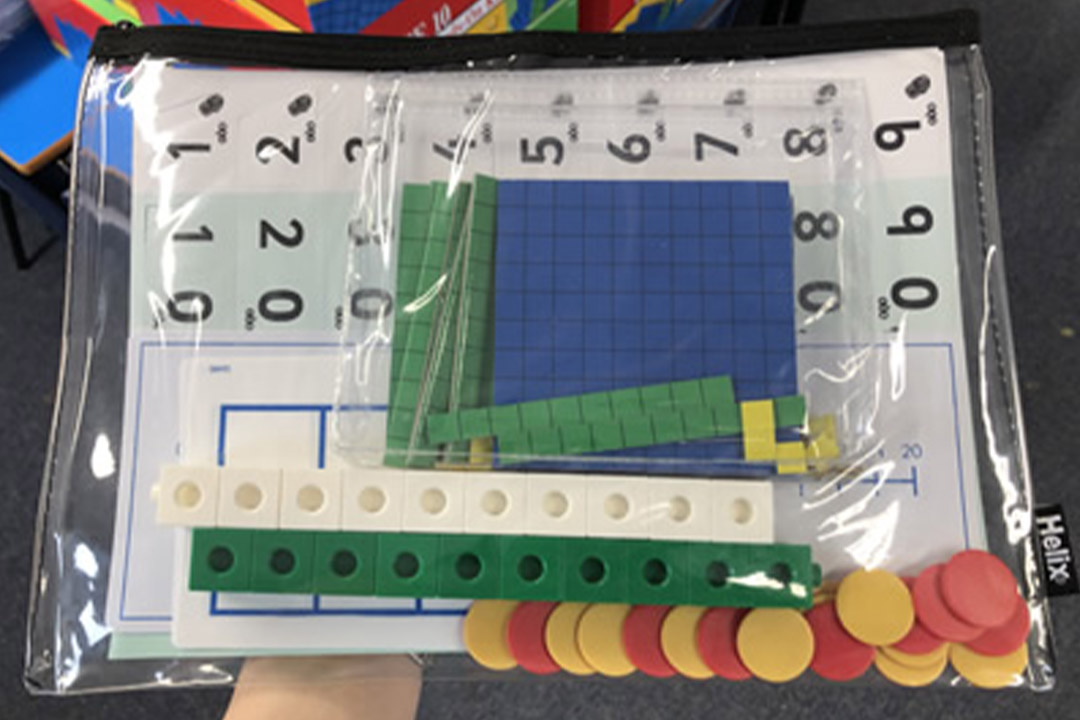 Nicol recognised the value of parents being able to work with manipulatives at home with their children. She decided to put some of the grant money towards making this possible. She has put together over 700 plastic wallets for parents on the programme, containing:
2 × tens frames
20 × double-sided counters
1 × number line
20 × multilink cubes
20 × each place value counter (0.001 to 1,000,000)
2 × sets of place value arrows
1 × set of base ten.
Already Nicol has had interest further afield, and there are plans to roll out the programme into Lincolnshire and Nottinghamshire.
Could engaging parents in learning maths help to support children at your school? If so, Nicol is happy to answer your questions: email Nicol.
Nicol is also keen to hear from schools interested in enrolling on the programme for September 2019. Schools on the programme will receive materials, coaching support and packs of manipulatives for 20 parents.
Read our review of a 2016 National Numeracy parental engagement programme report. Or check out National Numeracy's Family Maths Toolkit.
Subscribe to our newsletter