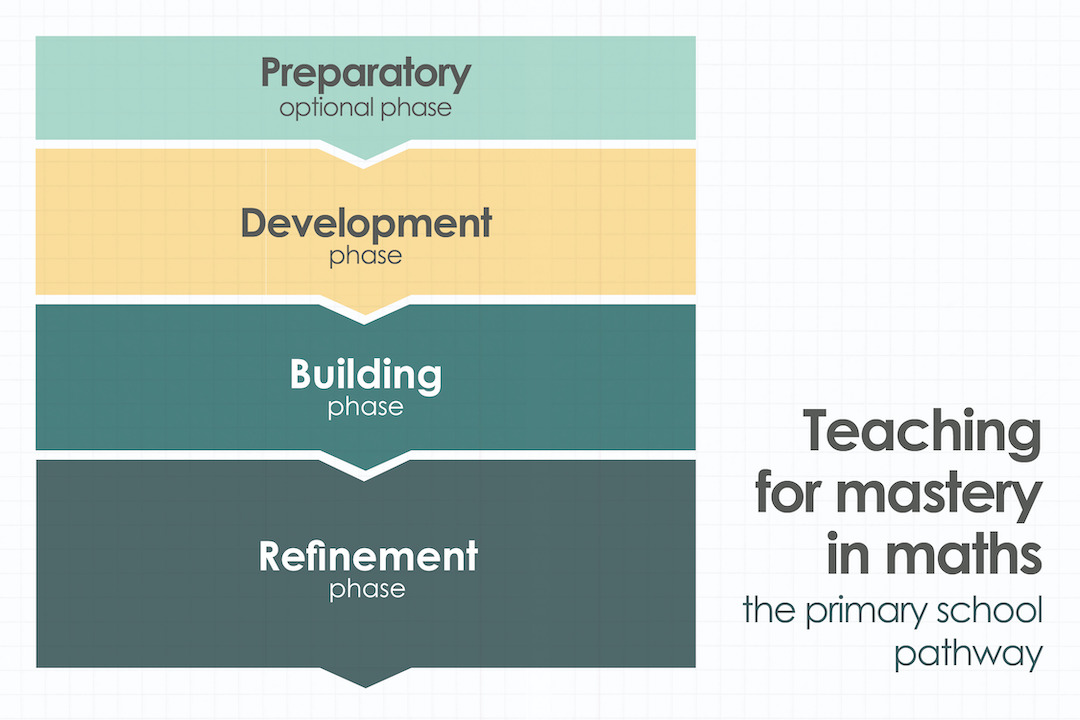 Our diagram shows a school's journey towards mastery. Use it to determine where your school's journey starts (click/tap diagram to show a larger version with more detail of the journey).
If your school is ready to start developing a teaching for mastery approach, you can join a Work Group starting in the new academic year.
During the 2023/24 school year, Maths Hubs across England will be working with thousands of primary schools to continue the spread of teaching for mastery across England.
The Teaching for Mastery Programme is a professional development opportunity designed to support teachers like you to develop best practice in maths in your school. It is suitable for schools interested in implementing a teaching for mastery approach to maths.
The video below was made for a previous recruitment campaign. The details still apply, with the exception of the information about matched textbook funding, as this is no longer available.
What is involved?
Two teachers from each participating school join a Work Group, consisting of around six local primary schools. Each Work Group is led by a trained Primary Mastery Specialist. Work Groups meet regularly to plan, observe and discuss teaching for mastery. In between meetings, teachers explore mastery approaches in their own classrooms and across their school.
Support is provided from a local classroom-based Mastery Specialist who leads the group. This model of professional development involves hands-on learning and peer-to-peer support. It is evidence-based and designed to support substantial long-term change.
Who can take part?
This is for state-funded primary schools in England. Each school must send two teachers to half-termly school-based teacher research groups. Each term, the Mastery Specialist will visit each of the schools.
In 2023/24, those teaching in special schools will have an enhanced offer that will enable them to network with other schools in a similar context.
NB: Schools can only take part in this particular Work Group once. However, there are other Work Groups dealing with teaching for mastery which are available in the year after a school is in a Development Work Group and beyond. Talk to your Maths Hub about your options.
What is the cost?
The Primary Teaching for Mastery Development Work Groups project is fully funded by the Maths Hubs Programme so is free to participating schools.
What will you learn?
Teachers tell us about what involvement has meant for them and their pupils:
Alana Mead, Year 6 teacher at St Francis C of E Primary School in Swindon

Being involved in a Work Group, you feel much more involved in your own CPD. You are actually doing something, rather than being talked at.

Calum Boothroyd, Year 5 teacher, Swindon Academy's Primary Phase

As an NQT, it has been so useful for me to speak to other teachers at the TRG about how they teach maths. In an hour and a half this morning, I've already got so many ideas to take back.

I feel like it has been a springboard for me. It gives me further insight and a variety of different ideas which I can take away. It has helped me develop my own subject knowledge too. I've now got more confidence and belief that I can lead on things.
What should you do next?
Get in touch with your local Maths Hub to find out if it is recruiting for Primary Teaching for Mastery Development Work Groups.
Subscribe to our newsletter