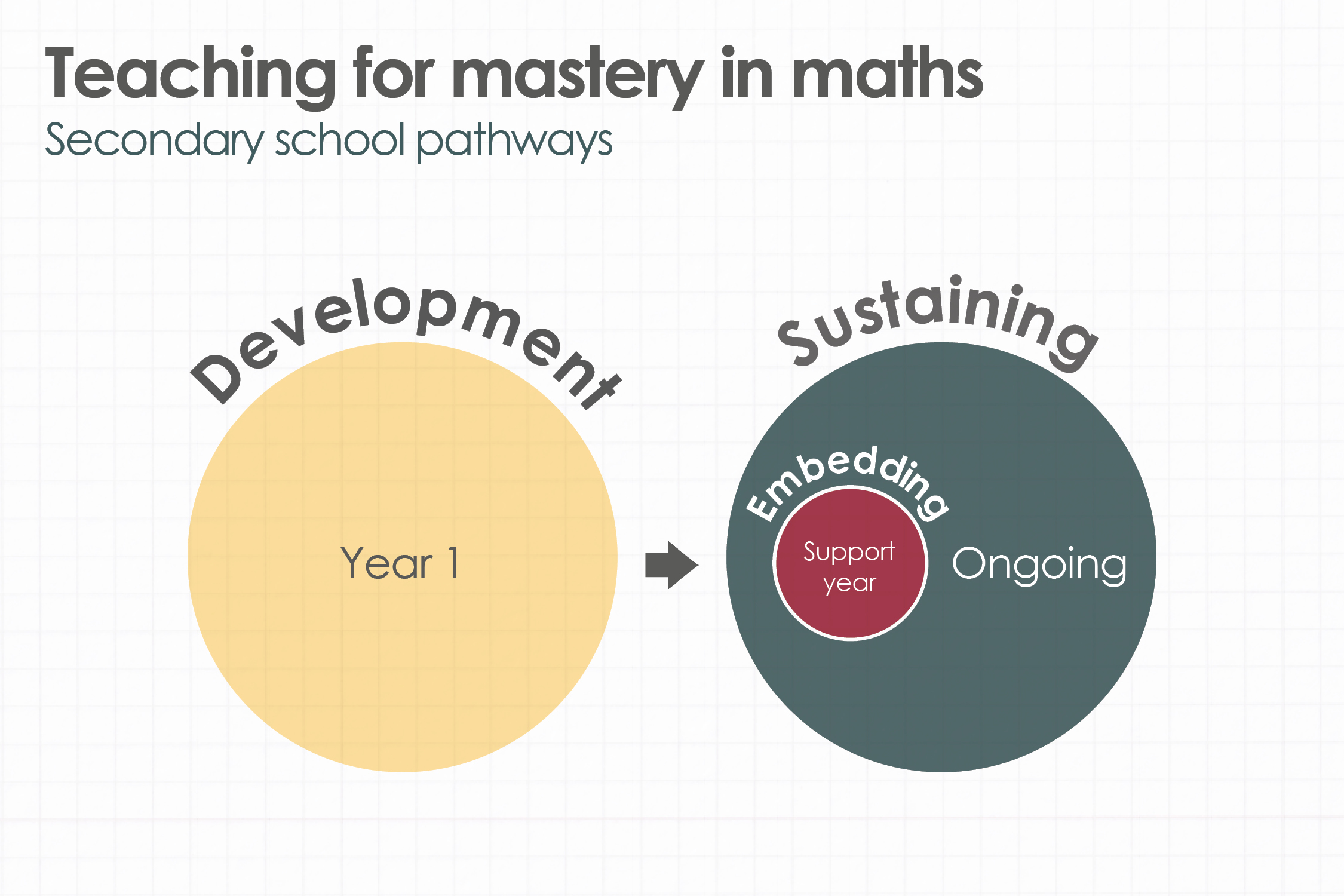 Want to become a specialist in teaching for mastery and support your own and other schools to develop teaching for mastery approaches? Join the Secondary Mastery Specialist Programme. During the programme you will receive fully funded professional development from experts, have time to develop your own expertise, and then to support others.
Any teacher (excluding ECTs) who is teaching maths in a state-funded secondary school in England and who wishes to develop both their own classroom practice and their skills in leading professional development with others can apply to become a Secondary Mastery Specialist.
Hear from a teacher who has been part of the programme as he explains how teaching for mastery has revolutionised the way he teaches, and had a positive impact on his students.
Our diagram shows a school's journey towards mastery. Use it to determine where your school's journey starts (click/tap diagram to show a larger version with more detail of the journey).
What is involved?
The Secondary Mastery Specialist Programme enables secondary maths teachers to become experts in teaching for mastery, so they in turn can develop maths departments that are well-led, high-performing, and provide high-quality professional development through collaborative working.
Over a minimum of three years, participants first work on their own understanding and practice, then with their own department, then with other departments as a Local Leader of Maths Education for their Maths Hub.
All the time, you keep in touch with other specialists across the country in online groups. You can share experiences and continue developmental conversations.
To support you in developing your role as a leader of professional development you will be enrolled in the NCETM's PD Lead Programme during the second year of the Secondary Mastery Specialist Programme.
What is the cost?
The Secondary Mastery Specialist Programme is fully funded by the Maths Hubs Programme so is free to participating schools.
How can you find out more?
Hear from Mastery Specialists in our videos below. Find out more about mastery in our case studies. And take a look at the Mastery Specialist Programme in more detail in this diagram.
This video was produced in 2018/19. It describes the programme in more detail and lets you hear from teachers in some of the schools involved.
What should you do next?
Applications have closed for this year. Contact your local Maths Hub to find out about other maths-specific professional development opportunities.
In the 2017 summer term, we asked some Mastery Specialists for examples of what was changing at their schools as a result of their participation in the programme. They told us about work both in their own classrooms, and with colleagues in maths departments. These short videos are the result. Each video is no more than three minutes long. 
Subscribe to our newsletter